Wow, MoCCA was a great time! We went in with literally no expectations and came away amazed with how well everything went. We had a number of items that we were selling: our
Dollar Dreadfuls
, Budgie Buddies, and our friend's T-Shirt/CD/Poster sets and we sold out of everything by the end of Sunday. We came to the show armed with two boxes full of Dollar Dreadfuls and even though we were worried that some people would be turned off by the fact that they aren't strictly "comic books", lots of people seemed really intrigued by them and picked them up.
Business on both Saturday and Sunday was brisk, and even though we were in room "C" we got quite a bit of traffic coming through. The only downside was that we didn't realize that half-tables were so small and that we paid so much for such a small space. Fortunately for us, the people sharing our table were hardly there all weekend and they said we could use their half when they weren't around. So we really got to spread out our things, which helped. (And we signed up for a full-sized table for next year so we don't make the same mistake again.)
Our neighbor was
Rosemary Mosco
, who I met at the Toronto Comic-con and she was also selling prints and mini-comics like crazy and sold out of practically everything by the end of the show! And other people must have been doing well, too.
Ryan North
mentioned that he had sold out of some of his books as well, to the disappointment of his fans. (As a side note, his mini storybook/comic: Happy Dog the Happy Dog was one of the funniest things I've read in a while). Alas, I was not able to get a copy of Life Meter 2 before they sold out - that seemed to be quite a hot item at the show!
Overall, I didn't have much time to walk around but, as always, there was so much cool stuff to be found. Fellow MCAD alumni were representing at MoCCA- we ran into
Will Dinski
who had some amazing screen-printed comics in really creative formats. We also saw
Tyler Page
who also used to attend MCAD, and I picked up his new Nothing Better trade.
Ryan Kelly
was also there, and let us know how life is going with his new twins!
Will had fun exploring the show and picking up lots of swag. He was quite impressed with
Petteri Tikkanen
, who was at the Finnish table, and who chased Will down 15 minutes after he purchased a book, in order to give him the translation guide!
Even though we were happy about leaving the show with less stuff to carry, it didn't quite work out that way because we bought so much stuff! But if there's one show that I like spending money on, it's MoCCA, because oftentimes that's the only place where you can pick up all these cool and unique comics and works of art in one place.
I brought my camera but for some reason I hardly took any pictures... but here's a couple of our table. Forgive the blurriness.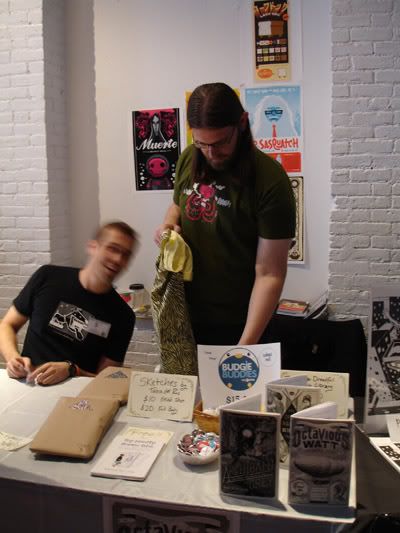 </a>
</a>
Anyway, it was a great weekend, and we're definitely going to miss New York. We leave for Cali on Wednesday, or at least that's the plan. Our dog fell unexpectedly ill a couple days ago and she's been in the animal hospital all weekend. :( So we're really hoping she'll recover quickly and that it doesn't turn out to be something too serious...
Well, thanks to everyone who stopped by our table to chat or to buy our Dollar Dreadfuls! We'll see you next year at MoCCA!